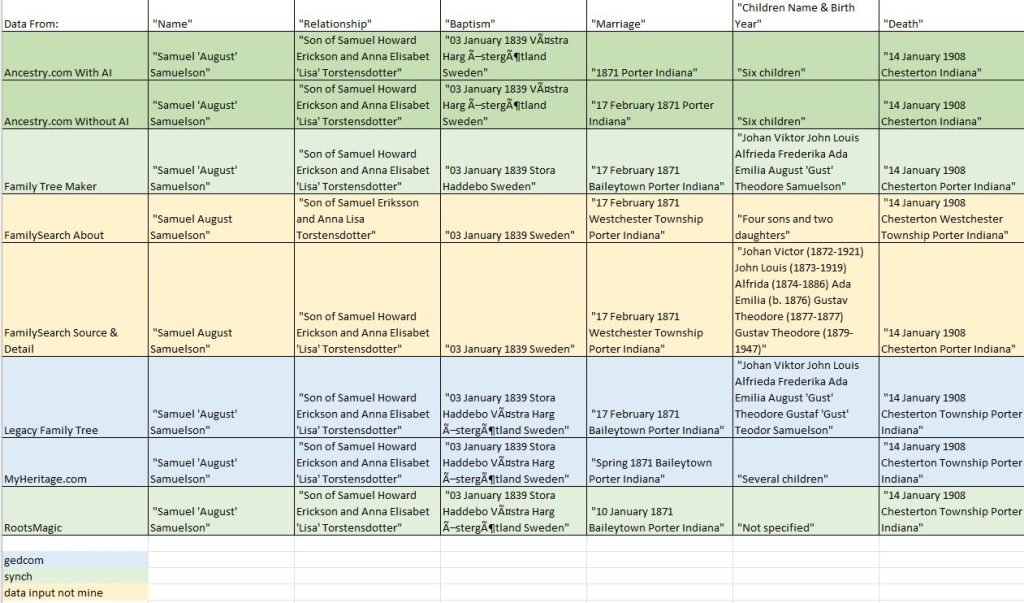 NOTE: This blog was posted on 25 Nov 2023 on the Empowering Genealogists with Artificial Intelligence Facebook group. Since my blog two weeks ago on using AI to write a narrative, I've been getting a lot of questions and comments. I've been told that AI doesn't work with some sites; I have found that to be not true. I have also found a temporary work around for footnote/endnote citations that look more like what genealogists use – simply provide this prompt: Please write all footnotes in Chicago format style. You will have to go back and fill in some info, like the enumeration district for censuses, but it will be closer to what we are used to seeing.
I was interested in seeing how a narrative summary with endnotes from various sources that had similar data would be written.
I used the same prompt:  You are a professional genealogist and expert writer. Please write a narrative summary with endnotes from the attached file. (AI seems to place all sources at the end, whether you make the request as a footnote or endnote. This could be due to my requested writings being short.) The endnotes for the example below are funky looking because they are sources from sources, meaning the information that was being compared was the main source, like Ancestry.com, and not where the source cited in Ancestry.com came from.
Each request was made using a new message on ChatGPT.
The files I uploaded individually were:
Ancestry.com from Life Story with and without AI. AI selected "What was (region) like when (individual) was (event)."
FamilySearch.org Source/Detail and About
FamilyTreeMaker from Individual Report
LegacyFamilyTree from Other Reports>Individual Summary
MyHeritage.com side view of Family Tree for named individual
Roots Magic from Reports> Individual Summary
The information for all but FamilySearch.org was generated by me over the years. The data was always entered into Ancestry.com, then synched with RootsMagic and FamilyTreeMaker. A gedcom from Ancestry was uploaded to both LegacyFamilyTree and MyHeritage so no media is available on either of those sites. FamilySearch.org does include a minimal amount of information from me but most of the data was generated by family members.
I then gave ChatGPT the following prompt:
Today you are an expert data analysis and professional genealogist. Prioritize fidelity to the information below; dry recitation, avoid editorialization. Process the data sentence-by-sentence, from beginning to end. Extract this structured data: "Name", "Relationship", "Event Year and Location Baptism", "Event Year and Location Marriage", "Event Year and Location Children", "Event Year and Location Death". The response should have the header row in line 1: "Data From:", "Name", "Relationship", "Baptism" "Marriage", "Children Name & Birth Year", "Death". Column A should have the header row: "Ancestry.com With AI", "Ancestry.com Without AI", "FamilySearch About", "FamilySearch Source & Detail", "Family Tree Maker", "Legacy Family Tree", "MyHeritage.com", "RootsMagic". Enclose all cells or fields in quotation marks; omit, ignore, and avoid commas and other punctuation in the original data in your response in an attempt to keep the CSV error-free. Display dates in military format meaning day month spelled out and not by number and year. Display your response in a code window for easy copy-and-paste.
The results are attached above. I've color coded them to denote synch (pale green), gedcom (blue), not my own data (yellow).
Interesting how the diacritical marks are shown by Ancestry, Legacy, MyHeritage, and RootsMagic. FamilyTreeMaker omitted them. The apostrophe before and after August was originally quotation marks. Not sure if that is standardization issues or software/technical limitations.
I was surprised that Ancestry, which has the full location for events, simplifies to only provided county and state. The complete marriage location would be Baileytown, Westchester Township, Porter, Indiana. I wondered why Westchester Township was omitted and discovered I had never entered that in any of my generated trees. I had mis-entered death location as Chesterton Township instead of Chesterton, Westchester Township. This is a nice way to enhance and correct your data. (Chesterton is actually in three townships but the events occurred in Westchester).
All of the sites had the names of children. FamilySearch provided the most information (child's name and dates). Legacy and FamilyTreeMaker both named all children. Not sure why RootsMagic didn't specify. And now we know MyHeritage considers six children as "several." Personally, I'd call that a handful plus!
I can see another use for this when trying to figure out where online public trees vary from yours and what source info (if any) they might have. It's also a nice clean timeline that takes little effort to create.
Next I decided to take the Excel info, re-enter it into ChatGPT and give the original narrative prompt again. Since every narrative had been slightly different I wondered what the final product with the full information available would be. (I should mention I did the first narrative a few weeks ago in RootsMagic and there were three hallucinations but the rest I did on Wednesday and there were none.) Here is the compiled narrative:
Samuel 'August' Samuelson was a pivotal figure in his family lineage, with his life journey documented across multiple genealogical platforms. Born on January 3, 1839, in Stora Haddebo, Västra Harg, Östergötland, Sweden, Samuel was the son of Samuel Howard Erickson and Anna Elisabet 'Lisa' Torstensdotter. His baptism, a significant event in his early life, is consistently recorded in these sources, reaffirming the importance of his Swedish origins.
Samuel's life took a significant turn when he married on February 17, 1871. While the exact location of his marriage varies slightly in records, ranging from Baileytown to Westchester Township in Porter, Indiana, it's clear that this event marked his transition into family life in the United States.
The couple was blessed with several children, though the records differ in detailing their names and birth years. FamilySearch Source & Detail provides the most comprehensive list, including Johan Victor (1872-1921), John Louis (1873-1919), Alfrida (1874-1886), Ada Emilia (b. 1876), and two sons named Gustav Theodore (the first born in 1877 and died the same year, and the second born in 1879). This detail adds depth to our understanding of Samuel's role as a father and the legacy he left behind.
Samuel's life came to an end on January 14, 1908, in Chesterton, Porter, Indiana. The consistency of this date across multiple records emphasizes its accuracy and the end of an era in the Samuelson family history.
Endnotes:
Baptism and Birth: Samuel's baptism and birth details are consistently recorded across Legacy Family Tree, Family Tree Maker, FamilySearch Source & Detail, MyHeritage.com, Ancestry.com (with and without AI), and RootsMagic.
Marriage: The date of marriage is consistently noted as February 17, 1871, but the location varies slightly, as recorded in different databases.
Children: The most detailed account of his children is provided by FamilySearch Source & Detail, with other databases offering varying levels of detail.
Death: Samuel's death date is uniformly recorded as January 14, 1908, across all sources, with slight variations in the location's specificity.